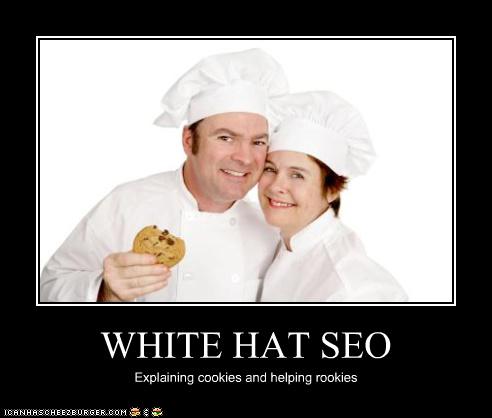 In my previous blog, I talked about Black Hat SEO. We all know that Black Hat SEO is the bad guy and if there's a bad guy, a good guy will always come to save the day. This is where White Hat SEO comes, what others call as the "good guy" of search engine optimization. Many people in the internet business have been doing White Hat SEO techniques for many years now. This is the safest and probably the best way that you can do if you are after search engine ranking.
So what is White Hat SEO?
This is defined as any SEO technique that is used to maintain the integrity of your website and search engine results pages (SERP). These tactics are the only ones used to enhance rather than detract or destroy your website from the rankings. It is also known to be the methods approved or the natural ways of building traffic to your website. These ways/techniques are well documented in the Google Webmaster Guidelines. Usually, they are provide good user experience and they follow the rules and guidelines of search engines.
Other definition of White Hate SEO refers to the usage of SEO strategies, tactics or techniques that completely follows that search engine rules and policies. This makes use of the "organic" ranking and practices. The White Hat SEO is also called as the Ethical SEO.
Now that you know the definition of White Hat SEO, it will be easier for you to understand the different techniques that you can use when it comes to search engine optimization.
Of course, waiting for results will take time but if you are doing an honest job when it comes to getting the ranking you need then there's no way to go but use the White Hat SEO methods! Besides, you really don't want to get penalized by search engines, right? So using these techniques is the best way that you can do it.
Here are some of the common White Hat SEO tactics that you can use on your website's ranking.
Linking to your site or Backlinks – one way to get people visit your site is by backlinks. However, you don't need to put backlinks everywhere; you need to find a good website with high ranking to link to your content. Make sure that the content you have on your site is also relevant to what this site have. This will definitely be a good way to get readers and visitors on your site.
Internal Linking – this is used to build up your site's popularity. Internal linking means that you put a link in one page of your site to another. Keep in mind that search engines respond well to internal linking. This is because it tells them that your site's content is relevant and is good enough to be shown on multiple pages. It will also tell search engines that your site has good contents to look at.
Filling all Tags – sometimes, people don't use tags or forgets to put tags on their content. Including title tags on all pages, links and images, you are actually telling search engines that you have the information it needs and it is available on your site. When search engines notice this, you will help them index you better. So it is important to know the right keywords to use when you are tagging.
Great Website Content – search engines are always looking for contents that are relevant and valuable to online users. So don't just fill in your site with random things or words. Keep in mind that the more relevant your contents are, the more chances of it being found by search engines. So make your content interesting, informative and attractive enough for your readers to engage in. This way search engines will see that your content is valuable. Always update your content, if you can do it every day, why not? After all, this will keep your site going and search engines checking your website.
Write for Other People – if you know a lot about SEO then why not write for other people? Yes, this can also be a good way for you to get ahead your competitors. It could be blogs, forums or a piece for someone's site it could be a good way to create links to your own website.
In closing, there are MANY White Hat SEO techniques that you can use, these are just a few of them. All you need to do is find out which one can work best for your site. As I have mentioned, these results may take time but hey, if you are aiming for a good spot, why not do it without any shortcuts? After all, you will be the one who will benefit from your hard work, so you might as well do it correctly.