I have mentioned in one of my blogs that a good reputation is important especially if you are running an online business. This being said, I took the liberty to look for the common mistakes that people do when it comes to managing their reputation. Though you might think that this has nothing to do with SEO! To tell you the truth, this is one of the most important things you should have other than just plain search engine optimization techniques. To understand what I am talking about, it is important that you read what I have to say.
A good reputation is as good as gold. This is especially important if you are in the online industry. If you want an increased traffic as well as sales, then make your customers your priority. Keep in mind that if your customers are happy then profits will follow. Some people are so caught up with making strategies on how they can earn money online that they forget about their customers. Understand that they are the fuel behind your success, so without them you will also fail. However, there are still people who do the unthinkable. Customers are forgotten and their services became mediocre. And so in order to avoid these things, here are some of the common reputation management mistakes that web owners do:
Controlling their name, brand or services – probably some of you are unaware but controlling your brand is something that can destroy your reputation. How so you ask? I know some of you are afraid that your brand/name will be tarnished by bad reviews or if someone writes something about it that can change the way people will see you. Truth is, controlling how your brand/name appears will only lessen the chances of being heard. But if you really want people to know that you exist or that you have what they need, you also need to take chances. By taking chances I mean, taking the first step of being transparent and honest to your customers or to whomever has encountered your name. This way, you are assured that the word came from you and not from someone else. This can also give your name the accountability which is something that people like.
Making fake reviews about your site – this is common to those who are looking for a way to get noticed. But I tell you, avoid, avoid, AVOID this step. You don't have to fake it! If someone gives you a review then better. This means that your hard work is paying off but never ever make a fake review. Keep in mind that a fake review is easy to track down and if people find out that you did that, they will be more unimpressed. So instead of gaining a reputation, you lost one. And if ever you did gain a reputation, headlines will probably name you as someone who faked their way into popularity. So resist the urge.
Allowing someone to work on your behalf – once the owner of the website becomes too occupied to work on their sites, they allow other people to do the job for them. This is a wrong move, keep in mind that you have invested in this business. You have put money, time and effort to get it all done! Now you are allowing someone to do the job for you? As much as this helps, some people do not think the way you do nor do they have the same goal as you. They could help build your name or destroy everything you have worked for in a heartbeat. So no matter how busy you have become, make it a priority to always check the credibility of your online business. And in case you do want to hire someone to do the work for you, always check what they are up to. See what SEO strategies they are using, can this add a good reputation to your name/brand? Always oversee what they are doing, this way your name won't be tinge with bad reputation.
Defending yourself from critics – criticism will always be there whether you do good or not, someone will take advantage of that situation. Your role is to respond but if you do, respond in a way that you won't feel offended by what these critics have to say. Keep in mind that they will see how you react and will use that against you. If you do want to react, act with grace and professionalism. As my mother said, never stoop down to their level as this will only destroy your reputation. Keep in mind to be polite but speak only the truth. This is one way to gain a good reputation in the online marketing industry.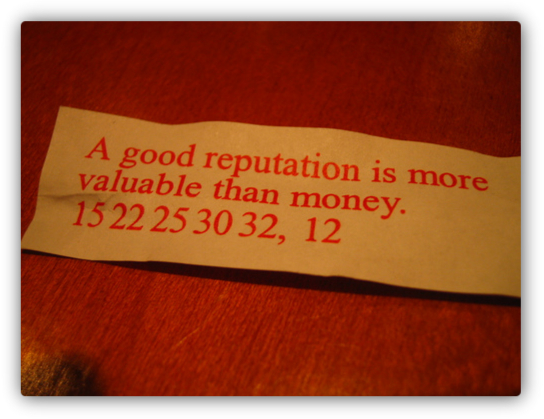 As I have mentioned, a good reputation is as good as gold. You don't need to create hysteria to create your name (although some people do) instead, make them know that you are true to your services. After all, if you know what you are doing and if it is all good then there will be no bad rumors against you. Makes sense, right?